Arkansas scientists develop blood test to detect cancer at early stage




2018-03-05T13:45:00+0000
It's useful not only in detecting cancer, but also showing if it's spreading throughout the body.
LITTLE ROCK - Dr. Blake Johnson discovered a protein produced by tumor cells called Hepsin. Using a simple blood draw, it will show high levels if a tumor is present.

More California Newz
After establishing her own publishing company, this Malibuite wrote her first children's book.

Children's Book is First for New Malibu Author
Malibu resident Anita Gnan took a giant leap last October when she launched her first children's book, "Kibble: The Monarch Caterpillar Af...
bit.ly
The #KingTut exhibit opens today at the @casciencecenter 👀Here's everything you need to know about the exhibit https://t.co/k9hdIeA25b ✨#losangeles #kingtuttour
We're heading to #SantaBarbara for the weekend on @Amtrak's @PacSurfliners! Follow our Insta Story to explore @SantaBarbara with us – we can't wait! 😎✨
City Manager's Weekly Report March 23, 2018
TRAFFIC ADVISORY IN TOPANGA. TOPANGA CANYON BLVD., NORTH OF PCH, IS CLOSED IN BOTH DIRECTIONS FOR AN UNKNOWN DURATION DUE TO A TRAFFIC COLLISION
This year's Songfest theme was "Lights, Camera, Songfest!"
https://t.co/KCB77irYOn
Celebrate #NationalPuppyDay at these L.A. breweries https://t.co/S83n1kd0fg 😍 WARNING: These photos will melt your dog-loving heart ❤️
Cograts @drewdroege @boomboomhiller @zachlaks and everyone at @BrightBoldPlay. Can't wait to see it all come full circle. Let's have the cast party in #PalmSprings. No dress code, we promise.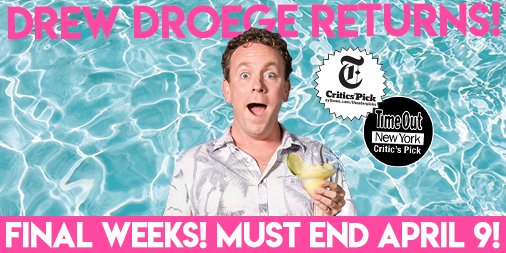 Bright Colors in NYC
@BrightBoldPlay
Big news! @drewdroege will return to film the final performance of the "@RuPaul Approved" @BrightBoldPlay for @BroadwayHD! This is your final chance to see @BrightBoldPlay!
Your ultimate L.A. guide to dog-friendly hotels, outdoor activities, restaurants and bars is here https://t.co/ORR2Kq9szE 😎 Just in time for #NationalPuppyDay 🐶 💯
Since it's #NationalPuppyDay, we thought we'd bless your timeline with these spunky L.A. dogs 🐶 Where in L.A. will you be taking your pup to celebrate? #discoverLA
Join an exclusive, seated tasting with Sur La Table Chef-in-Residence Ben Leonard at @WestfieldTOP this Satday, March 24. Get your tickets https://t.co/as7fZKflgK 🍇Proceeds will benefit the @SFVRescue . #ad
Load More...